2020 Chevrolet Silverado 1500 Towing Capacity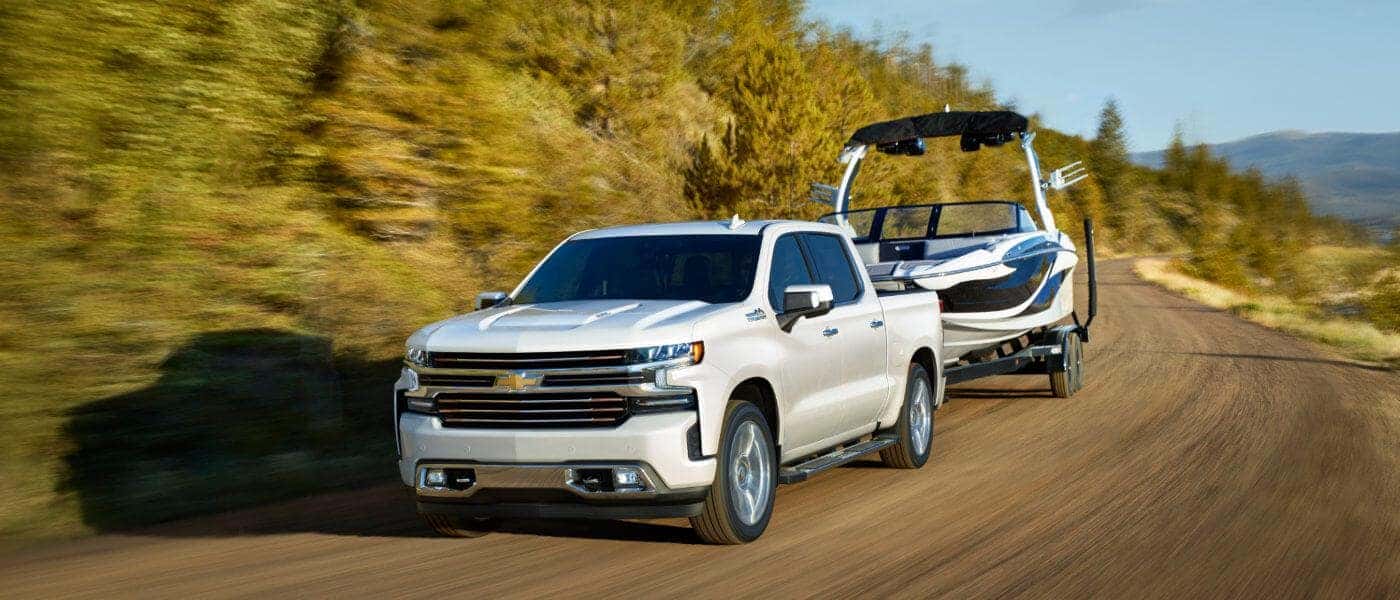 For drivers near Whitewater, Chevrolet Silverado 1500 towing capacity has set a new standard for full-size pickup trucks. Since it debuted in the summer of 1998, the Silverado continues to carry on the Chevy tradition of durability and strength.
Chevy Silverado Towing Capacity: Powerful Engines
Drivers in Orfordville will be impressed by the Silverado 1500 towing capacity, thanks to six engine options from which to choose. When appropriately equipped, the Silverado can haul up to 13,400 pounds. And the Silverado price allows you to splurge on accessories for even better performance. The crown jewel is the Silverado's engine, which is the reason for the vehicle's impressive towing capabilities. There are five remarkable options available:
2.7L Turbo Engine: The 2.7L Turbo will provide 310 hp and 348 lb-ft of torque. This base-level engine will allow you to tow a maximum of 7,000 pounds.
4.3L V6 Engine: With the 4.3L V6, you'll get 285 hp. It will also generate 305 lb-ft of torque, which is best-in-class among V6 light-duty trucks. This engine will allow you to tow a maximum of 7,900 pounds.
5.3L V8 Engine: The 5.3L V8 offers 355 hp with 383 lb-ft of torque. If you select this engine, you'll be able to tow a maximum of 11,600 pounds.
6.2L V8 Engine: The 6.2L V8 provides a massive 420 hp with 460 lb-ft of torque. When this larger engine is paired with the RST trim, you'll be able to haul a maximum of 13,400 pounds.
3.0L V6 Turbo-Diesel: The turbo-diesel 3.0L V6 will generate 260 hp with 460 lb-ft of torque. Your maximum tow load with the diesel engine will be 9,400 pounds.
Towing Features of the Chevrolet Silverado 1500
As you take a drive for work or recreation, you could be faced with several challenges. The Silverado is fully equipped with standard and optional features that will help you overcome any obstacle on the road. Here's a taste of what you'll get with the 1500:
The Trailering Package includes a 2-inch receiver, a 4-pin connector, and rear differential that locks automatically. You'll also get a 7-way sealed connector for your 7-wire harness.
The Available Max Trailering Package option will provide your Silverado with enhanced shock tuning and improved rear suspension. It also includes the Handling/Trailering Suspension Package.
The Transparent Trailer Feature provides views from 15 different cameras so you can haul your heaviest loads with peace of mind. You'll also get a camera mounted on the tailgate so you can see what's behind your trailer.
Towing mirrors for the Chevy Silverado extend farther than standard side mirrors allowing you to see to the end of your load clearly.
Experience the New Chevrolet Silverado 1500 at Drive Burtness
When you're ready to feel the exhilaration of the Chevy Silverado 1500, contact us to schedule a test drive. Our team of professionals is ready to show you the towing mirrors for the Chevy Silverado and all the vehicle's other incredible features. We also have numerous vehicle specials for drivers in Janesville. Call or email us today!